Our Commitment To You.

Quality isn't easy and a good gaming chair needs to be constructed by a team that actually games regularly. This is where we come in, we are a team of engineers, designers and overall technology experts who are also hardcore gamers. We know exactly what was missing in gaming chairs today and have constructed a series of gaming chairs that fill that need.

Ergonomic Design: All our chairs are designed ergonomically, meaning that they perfectly align your neck and spine for optimal position while seated for a long time. Our chair perfectly curves to your back for an ideal lower back lumbar supported to keep you positioned in the right posture all the way through.

Adjustable Arm Rests: Regardless of height or weight, we needed to make sure that for you to be perfectly comfortable that your armrests are adjustable, we did that for you.

170 Degree Recline: A stable and sturdy recline system was engineered by a team who calculated that 170 degrees were the most optimal recline angle for you to enjoy comfort while still keep your body in the best position for it.

Mesh and Cushion Support: Our comfortable mesh fabric allows for breathability and comfort while seated during those long sessions. Your hips and bottom will thank you later.

Sturdy Construction: A powerful metal frame braces gamers of all weights and sizes for a strong finish so you never need to worry about whether or not those extra bags of Doritos will be too much for your gaming chair to handle

Headrest/Footrest: All our chairs come equipped with a comfortable cushion that supports your head, while some of our chairs opt in for a footrest for the extra comfort while seated.

GTRACING has considered every aspect involved in making sure that every detail in the perfect gaming chair was accounted for. Our quality is next to no one and we take pride in bringing you gaming chairs that are built with love and care.
Customer Reviews
I was in love with the game chairs since they were launched but I did not decide to buy it, first for price and second because the design or the materials that did not convince me. In the end I bought this one because I have seen it at a friend's house, I have taken a look at the features and it has what I wanted, also for the price it was the cheapest one I found. It comes perfectly packed, it is a very large box and the pieces are protected so that they do not have any bumps or marks when they reach us. I thought that the assembly it was going to be more complicated and for nothing, it had taken 10-15 minutes in total. It has very clear instructions and is just tightening screws, it has no loss. It has a lumbar cushion that comes great to place your back correctly and be able to sit without any discomfort, as well as a very comfortable neck cushion too. I thought I wouldn't use them and I think I wouldn't know how to live without them now. The design he chose is black and white and I really love it, both the colors themselves and the way to combine them. On the back there is a small "pocket" with the bluetooth module and a USB cable to charge this. To use it it is only wireless, pair it with the mobile or the computer and we can now play anything through the speakers on the back. I have been very surprised, I know they are loud and without distortion; enough to keep in mind knowing that they have no electric current beyond the bluetooth module itself. The chair is impressively comfortable. The armrests can be customized both in height and orientation. The backrest can be reclined so that you can take a nap directly in the chair. And the chair itself can be adjusted in height with the piston under it. As for qualities, it shows that the details have been carefully taken care of. He didn't find a single badly made or frayed seam and the leatherette shows quality just by touching it. The truth is that he is right with this chair. I am delighted with it, it has everything I was looking for, with the addition of bluetooth speakers and at a very content price.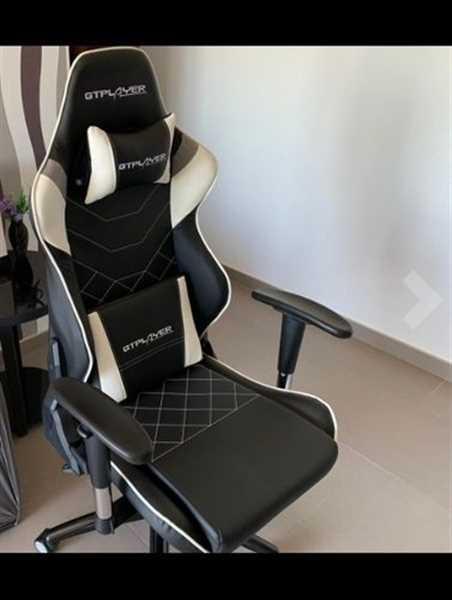 The front edge of the seat cuts into my legs painfully and causes propblems with circulation.