BLIZZARD® OFFICIAL LICENSED PRODUCT
Relive the Classic
I TELL YOU THIS, FOR WHEN MY DAYS HAVE COME TO AN END
YOU, SHALL BE KING.......
Celebrate the launch of Wrath of the Lich King ClassicTM with your very own Lich King co-branded esports chair. Beyond Northrend's icy forests and snowy peaks, the Lich King awaits you atop his Frozen Throne. Face his Undead Scourge and bring peace back to Azeroth! We are looking forward to fighting with you in Northrend!
The Lich King
285,000 STITCHES
OF EMBROIDERY
Carefully crafted in the tradition of kings.
A total of 285,000 stitches were embroidered on the body and headrest.
Characterized by the unique and vivid embroidery of the Lich King.
CONFIGURED WITH
UPGRADED FUNCTIONS
Ergonomic Support
Designed to closely fit your back and support your waist.
Head and Neck Reinforced support


Waist + Lower Back Designed to support your back


Shoulders + Upper Back Comfortable, streamlined fit
Stereo Bluetooth Speakers
Bluetooth 5.1 Wireless Chip
The built-in Bluetooth chip allows you to wirelessly listen to music within 5 meters.
Fully Immersive Experience
Enjoy crisp sound with powerful stereo speakers.
Bluetooth Speaker in the Back of the Chair
Activate stereo surround sound with the push of a button.
Experience built-in Lich King original audio
Exclusive Anti-counterfeit NFC
Authentication Chip
World of Warcraft: Wrath of the Lich King x GTPLAYER is the only officially designated esports chair. Pledge your allegiance to the one true king!
Adjustable Multi-Directional Armrests
Adjustable armrests move in any direction to provide optimal comfort.
135° Backrest Recline
15° Rocking Angle
For whether you're in the zone or taking it easy.
Built-in Retractable
Footrest
To sit back, relax, take a nap.
UPGRADED MATERIA
Upgraded Leater
New ultra soft leather provides ultimate comfort.
Breathable Fabric
Breathable and refreshing.
Upgraded All-Steel Frame
Ultra-durable, ergonomic frame provides greater support
for all body types
Upgraded Cuchion
Reshaped spacious seats and thicker cushions will keep you comfortable even through the longest raids.
Upgraded Sponge
Integrated high-density sponge molds to your body to provide ultimate comfort. 
CUSTOMIZE YOUR
EXCLUSIVE CHAIR
Due to the overwhelming response of the activity,
the registration is closed (The event is full).
Thank you for your enthusiastic support!
INTERNATIONAL STANDARD CONFIGURATION
The quality is in the details
REINFORCED EXPLOSION-PROOF MECHANISM
SGS-certified International
Class-4 Gas Piston
Silent Universal Wheel
STYLES
FROSTMOURNE
HELM OF DOMINATION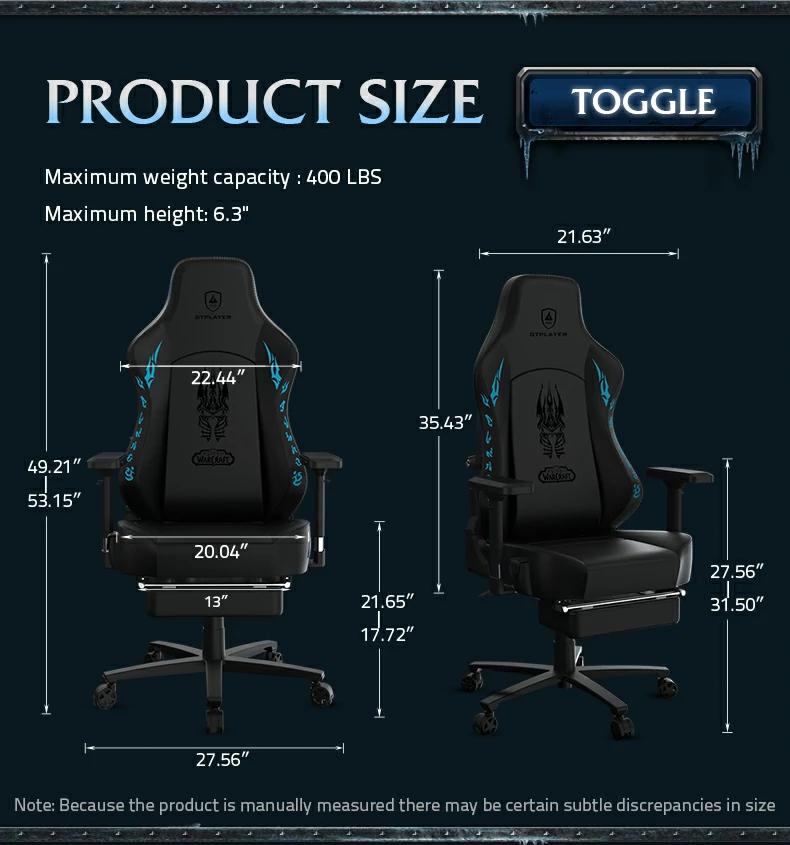 PRODUCT SIZE