The best 4th July sales 2020 are already in full swing, with some amazing bargains now just waiting to be snapped up. With so many bunch of blowout sales and bargains in the market, you may be dazzled at first glance. But for a serious gamer, a good gaming chair should be a not to be missed choice! It will support you for hours of gaming, even working at home!
Take a look at big Independence Day sale from GTRACING for gamers. We are laying on savings to make your eyes water and surprising you with mouth-watering $20 off specials to provide you a high level of comfort in the hot season! The weather is hot, but that doesn't mean your wallet has to take the heat. Ready yourself for Fourth of July sales! End on July 4th! Never lose the golden chance!
Part I: Independence Day Steep Discount and Site-wide Coupon
Part II: How to get the 4th of July special offer
Independence Day Steep Discount and Site-wide Coupon
The 4th of July will be very different this year for many Americans due to COVID-19. Health experts and elected officials are encouraging Americans to treat traditional 4th of July activities differently this year becuase of this pandemic and a recent rise in cases in multiple states. Many communities have canceled fireworks displays and parades, and some officials have closed popular gathering areas like beaches in badly affected areas. So, this year, let's celebrate this big holiday safely.
To make the most comfortable Independence Day at home happens, GTRACING treats gamer with incredible $20 off 4th of July discounts, aiming to help your budget stretch a little further, and let you avoid aimlessly wandering the crowded shopping centers.
At Independence Day promotion page, people could enjoy up to $104 Off on gaming chairs. For the entire duration of the Holiday Sale, every customer could apply $20 discount with coupon code JULY4 for all orders more than $100.
In this case, you can get many at astoundingly low prices —— You could grab GT002 for a mere $155.99 after the coupon and base savings, or bring the price of GT890MF-Red down to $165.99. Combine that with the $20 coupon, and you're getting 43% off on this chair. Even if you don't absolutely love the game, you'll probably at least get your money's worth at that price. All these gifts from the Independence Day sale would give yourself long term comfort and keep you sitting healthier!
Our Independence Day event only comes once a year! Don't delay, get up to 43% Off now through July 4th, 2020!
Reasons why GTRACING gaming chairs are worthy to purchase
Sitting puts pressure on your body, and having insufficient support can lead to pain or poor posture, which puts stress on your shoulders, back, and neck. After sitting uncomfortably for too long, you will get less focused and less concentrated. People who are struggling to find a comfortable sitting position or struggling with back pain in a chair, aren't exactly in their best state of mind. They are probably rushing through work or finish the game to get out of there.
1. High quality Components
Would you rather spend money in exchange for not having to buy another chair for many years? Of course! GTRACING are built to last and made with the highest quality materials on the market today. NOT MASS IMPORT LOW PRICE COMPONENTS!
By using upgraded denser 2.0 PU leather, GTRACING chair is 5 times durable than regular one. GTRACING's tilt locking mechanism is certified for strength & durability according to ANSI/BIFMA and ISO standards, where they are subjected to over 20 strength, durability, and functional tests. And GTRACING uses strong metal body frame is characterized by a thick wall tube, and a high-strength integrated steel frame. Precision sanding leads to uniform surface treatment and durability.

Shop Now: GT002-BLUE ($13.01 OFF)

 
 
2. Fit your comfort needs
GTRACING is engineered to fit your body and could be customized with tilt and tension controls to support you properly.
With ergonomic design, adjustable armrests and lumbar support pillows, GTRACING could keep your posture healthy, release pain and avoid the risk of injuries while you game or work. The headrest will protect your neck. Ergonomic backrest fits the back curve perfectly. And you could release lower back fatigue as well.

Shop Now: GT099-RED ($18 OFF)
3. Extensive use of Memory Foam
GTRACING offers superior padding that holds up under long periods of use. Made from memory foam, the head, lumbar, and seat cushions reshape into their original form when you stand up.
 

 

The memory foam inside seat, backrest and pillow support gives you support where you need it for extended game playing or work. This foam is soft and much more comfortable to the touch.

It will help distribute weight more evenly across the cushion and compliant to your form when someone sits down. However, it will return to its original shape when you get up rather than quickly flattening out and ruining the chair's shape.

Shop Now: GT890MF-RED ($104 OFF)
4. Offer long-term support and comfort
GTRACING is engineered to provide incredible ergonomic support taking into consideration every aspect for long periods of use at a desk or gaming. station.
 

 

There's nothing better than stay focused and perform at best for long periods of time with supportive chairs. GTRACING is always aiming to take your gaming experience to the next level and enhance productivity at work. No more aches and pains from hours of long sitting. Love the thing you're doing!

Shop Now: GT901-Black ($84 OFF)
How to get the 4th of July special offer
The 4th of July special offers are available till July 4th, 2020. People who plan to participate could know more detailed information by visiting the Independence Day campaign page. Beyond that, don't forget to enter the $20 off coupon code: JULY4.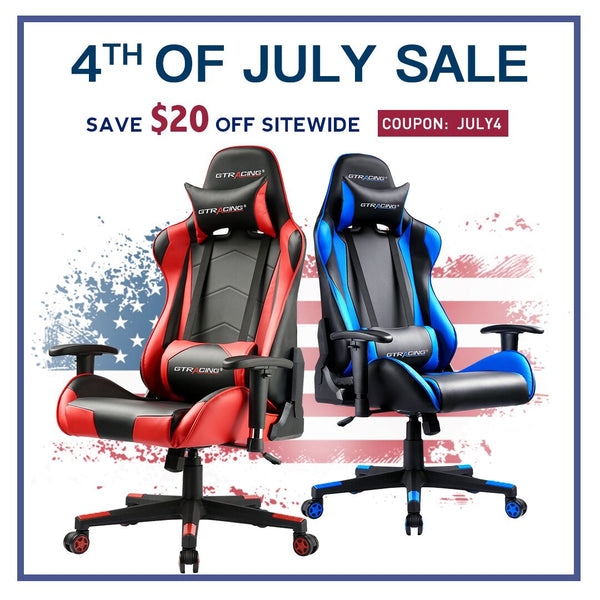 Don't worry, GTRACING Gaming Chairs are premium products - but we promise you'll get what you pay for. We back up our promise with a 30 Day Money Back Guarantee and 1-year warranty so you've got nothing to loose. As a bonus, if you purchase on online store and subscribe us, you are able to enjoy 2-year warranty.
Remember – with Amazon Prime Day being pushed back to maybe September, this year's 4th July sales will probably be even more popular than ever before! Seize the moment to grab your loved gaming chairs or gaming accessories as colorful as fireworks at our 4th of July promotion page!
Stay Safe, Stay Comfort! I wish you to have a great Fourth of July with your family and friends! May it be a wonderful time of joy and happiness!
About GTRACING
Founded in 2011, GTRACING has become a world-leading provider of gaming chairs from affordable to high-end ones. And it has delivered the extremely cool and comfortable gaming chair to 2 000,000 of users all over the world. We're a brand committed to bringing the best in gaming chair technology to gamers everywhere. We custom build, engineer and design ergonomic gaming stations to transcend your long and hard gaming experience into a comfortable experience to leave you focusing on destroying noobs in comfort.
Follow us on Facebook for more fun moments or contact us if you need more coupon codes!