Just image this: It's almost 1:00 AM, you're 28 minutes into a rousing ranked match of Heroes of the Storm, and your team is counting on you, the trusty carry, to finish the job. Hearing them yelling in your headphones, but with no caffeine left nearby, you're starting to fade – and fast.
Or let's face this: How many times you said that you are going to play just "one more round" then you end up ending your gaming time when the sun has already risen? Maybe your entire body cries out because you were in an uncomfortable chair and position while you were playing.
Now what you really need is to reinvigorate, and change your stance! It's time to choose a gaming chair to help you focus on your game without experiencing pain! Here we recommendate this GT890MF-RED gaming chair, which is the perfect solution for serious gamers looking for a chair with bluetooth speakers at a budget price. It provides high backs and very comfortable bucket seats for prolonged gaming, and is able to deliver an immersive sound experience. Is it worth it? Join me as I put the GT890MF-RED music gaming chair through it's paces.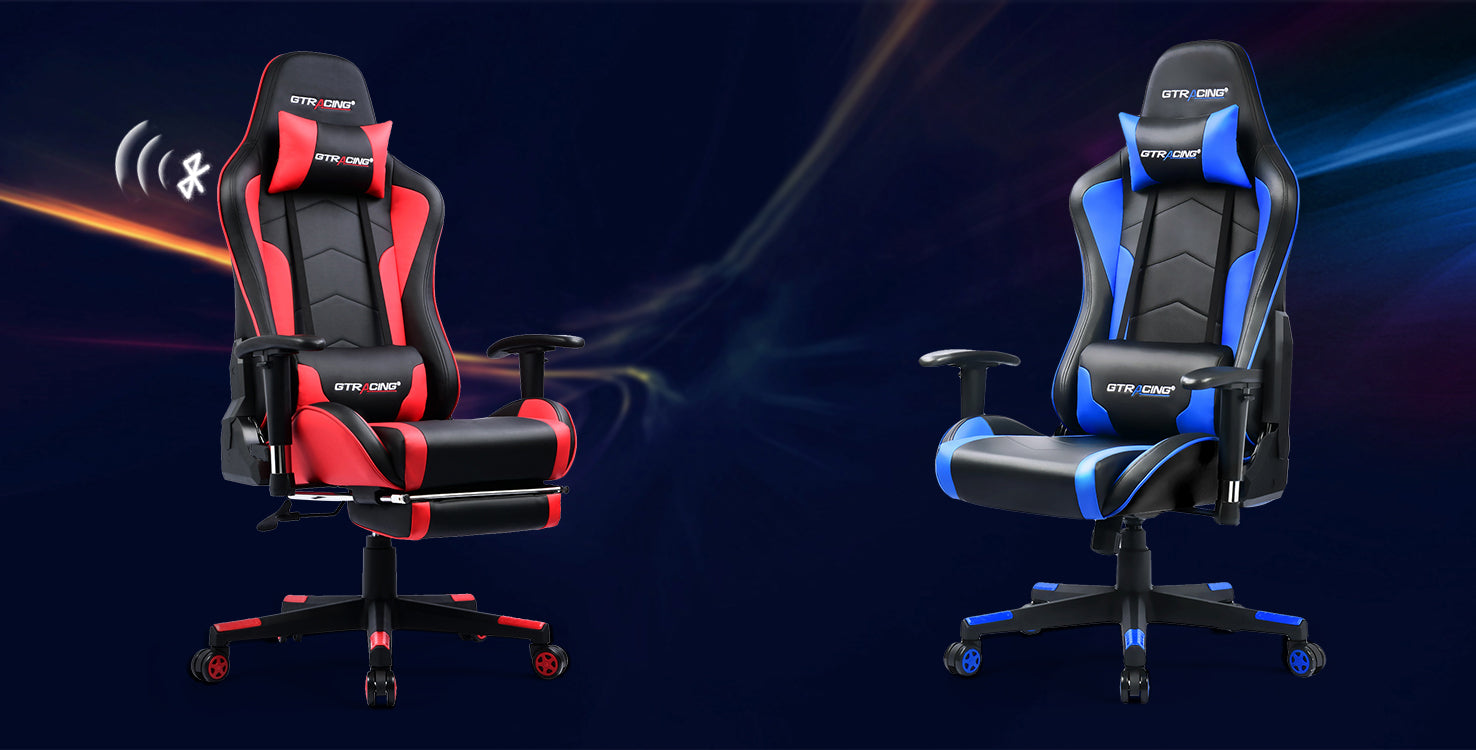 Find the best gaming chair with speakers, your life will change!
Why choose a gaming chair with speaker?
No music, no life. Music gaming chair is fairly similar to regular gaming chairs but there are speakers, somewhere around your head. Why is that important?
1. Well, because you don't have to use your headset anymore (unless you have to use the microphone. You can get a similar experience as you would get with a headset, without any ear fatigue or pain. Your ears will be completely free and that will also improve the overall amount of comfort you get.
2. The best gaming chairs with speakers help to provide total immersion. If you have a surround sound system, then that offers some decent immersion, but there is no better experience than the sound that you can actually feel.
3. While you can get away with getting some satisfying sound, volume, and vibration from other sound systems, they likely won't be Bluetooth and they will be a couple of thousand dollars in price and take up a lot of room in your house unlike a Bluetooth gaming chair that is both wireless, affordable, and produces quality sound in a complete and compact package!
A music gaming which includes built-in wireless bluetooth speakers is a highly recommended choice over a separate surround system. If one's goal is to improve the gaming environment, installing a separate sound system will take up more space. Secondly, it definitely costs more, not only in terms of purchase price but also in power usage. The bluetooth speakers built-in at the back or sides of the chair, are more practical. They are capable of delivering refined and excellent sound that one can actually feel and hear in the chair for as long as six (6) uninterrupted hours. Highly motivated players will feel empowered in applying skills and knowledge called for by their mission.
If you are looking for a relatively affordable racing-style music gaming chair, GTRACING GT890MF-RED is one of the viable options. It looks like a regular gaming chair but there are two Bluetooth speakers on the back left and back right.
What's in the box?
Along with the chair, you will get a USB charging cable (for the Bluetooth speakers), a USB Bluetooth adapter, user manual, and a 1-year warranty.
Color options
The chair is available in 2 color combinations – black with red details and black with blue details
Things we like
【Design Patent】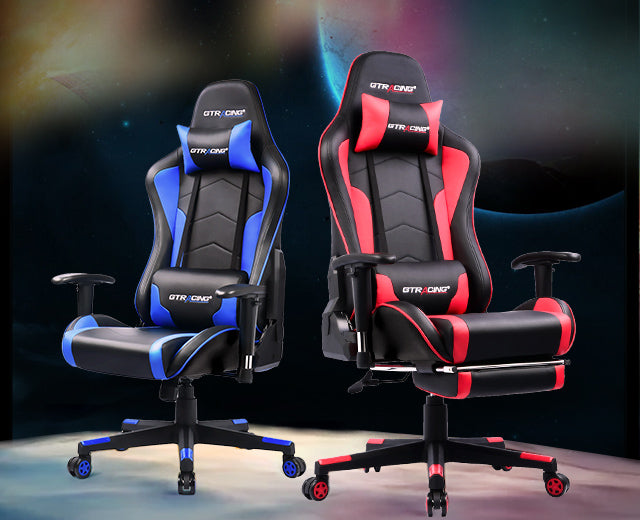 Wireless Bluetooth Speakers
Don't spend a lot on a separate surround system with more power usage. This built-in bluetooth speakers at the back of the chair will be more practical.
GTRACING has the patented Bluetooth technology for its sound system. Connect to smartphones and tablets easily and use it to to deliver refined and excellent sound.
One can actually feel and hear spellbinding music in music gaming chair for as long as six (6) uninterrupted hours to make long periods productive when engaging in immersive gaming.
【High Quality Workmanship】
Grade A quality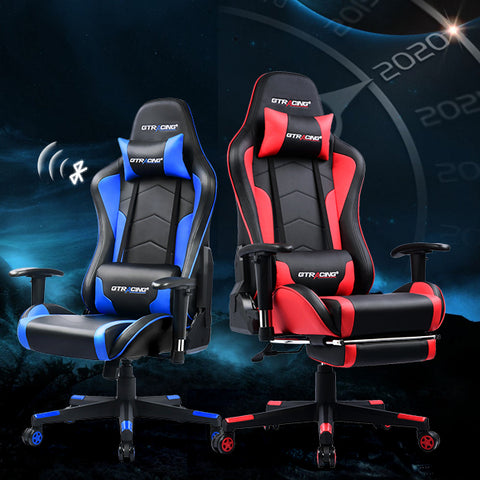 With 100% Grade A quality PU leather, stylish racing-inspired design and embroidered cushions, GT890MF could be a decoration of your space. It is easy to pair with your color matched computer gaming desk for enhanced ergonomics and style.
* This upholstery Premium PU leather with foam backing is soft and resilient.
* Improved one is 5 times durable than regular one to last for years.
* And this material is almost immune to stains. Easy to clean when you mess up your PC gaming chair with food or something like that.
【Rigorously-tested Multi-function】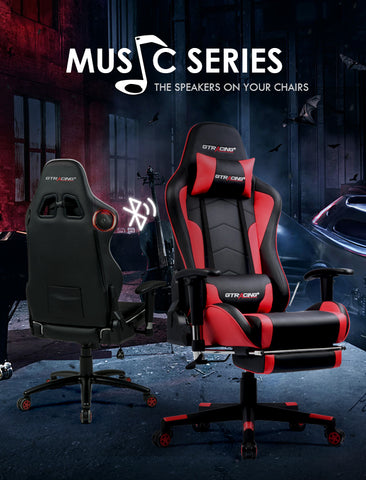 Full Tilt Capability
Facts and statistics show your performance as a gamer can improve when in comfortable seating position. By adjusting with a 90°-170° safety angle, this video gaming chair help your shoulders to drop comfortably, offer the best lumbar support and back to rest when reading, watching movie and napping extra.
If you feel tired at gaming, the full reclining back mechanism can lower the back angle of metal frame almost fully, so you can lie down completely strain-free while enjoying all the ergonomic support.
And this has relaxed rocking function to allow for rocking back and forth. Pulling out the footrest is a super cool addition when you want to watch some Netflix and have a rest.

【Upgraded Denser Material】

Enjoy Long-time Support
This seat is thick padded and give you support where you need it for long periods of use at a desk or gaming station.
A high back and two removable headrest and lumbar pillows could promote proper spine alignment and relieve stress from pressure points. Made from memory foam with upgraded denser material, the cushion will reshape into their original form when you stand up.
The soft armrests can be adjusted to find the right place for your elbows and suit your exact support needs to make the most of your gaming experience with the gaming style chair and avoid the risk of carpal tunnel.
【More features】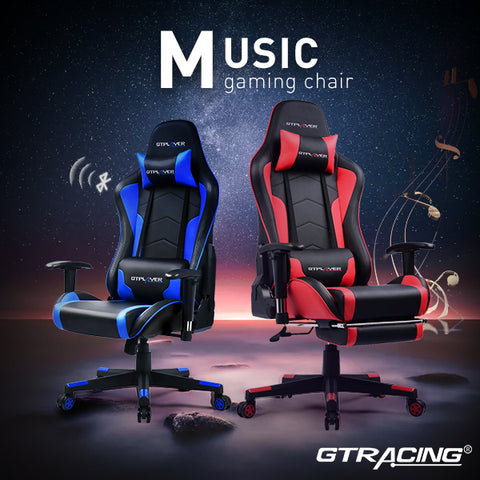 360-degree Swivel Base
Smooth & easy movement in either direction
Seat Height Adjustable
Adapt the chair based on height with pneumatic lever
Ultra-quiet Nylon Wheels
Roll smoothly and quietly on floor or carpet
In conclusion
The music experience is interesting, different, and kind of fun. The chair is definitely worth the money! To connect with your gaming console like PS4, you will need an extra Bluetooth USB Adapter Transmitter here. Note that the speakers can't be used while charging.
 

Best Gaming Chairs With Speaker

GTRACING GT890MF can provide up to 6h of playtime and you have to charge them after. The chair comes with a USB Bluetooth stick that you can plug into any audio source and send the audio wirelessly.

It is ergonomically designed to provide the highest levels of comfort. Long hours of engaging in immersive gaming and at the same time listening to spellbinding music, make long periods productive.
Follow us on Facebook for more fun moments or contact us if you need some coupon codes!