Stuck at home because of the quarantine? Have no chair for gaming? It makes sense to invest in your gaming setup! Stay home and stay comfortable in the comfort of one of our amazing chairs! Get your setup at GTRACING here! What's more, working from home is the new normal! Given that you have been sitting more. Maybe 8+ hours a day! Make sure to have a comfortable chair and set up in for your home office as well.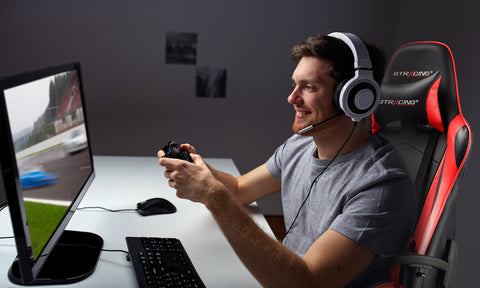 This review is about the hot-selling GT099. Read this complete GT099 Red review and choose your powerful and excellent gaming chair for gaming and/or working!
GT099 gaming chair is a popular gaming chair from pro series, which provides support and productivity needed for aspiring and professional esports athletes as well as gaming video streamers. This gaming seat features ergonomic high back and ultra soft headrest, offering you luxurious comfort with less stress and enhanced performance for long hours on gaming or working.
Recommended Height: 5'5" - 5'9"
Maximum Weight: 300 pounds
Free Shipping
3-5 Business Days Arrives
GT099 Red Review 2020 - Do NOT Buy Before Reading This Review
Features
It features racing style and ergonomic high-back, giving you visually-appealing design, maximum comfort and endurance for long sessions of gaming and working.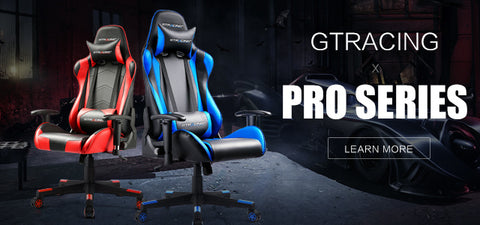 We've got your back with supportive Pillows
GT099 includes Pillows in the form of lumbar and head/neck support with GTRACING signature, which use premium denser Memory Foam material for pressure relief to elevate your gaming experience. They are removable and repositionable until it conforms to the curvature of your body.
Lumbar support: It is crucial in the prevention of back of short-term and chronic back pain. So, lumbar pillows sit against the small of the back and preserve the natural curvature of the spine, promoting good posture and circulation and minimizing strain on the spine.
Headrests and head pillow: It supports the head and neck, easing tension for those who want to kick back while they game.
Designed for last long with Heavy Duty Nylon Base
As trusted-quality gaming chair, GT099 is even ideal for the most aggressive gamers. We promise you could sit completely worry-free on your GTRACING chair, with
High strength nylon 5-points base: Supports up to 300 pounds and is more reliable than metal. Each wheelbase is not just perfectly balanced but reinforced with ribs and gussets as well, so as to provide impeccable stability.
Ultra-quiet Star-shaped casters: Glide smoothly over most surfaces without worry as all Caster wheels are made to be durable yet floor-friendly. Even children can move the chair anywhere safely and stably, since it only rolls until the person reaches certain weight.
Class IV Pneumatics: Raise and lower your seat with a high quality class 4 heavy duty gas lift, which is certified for strength & durability according to safety certifications such as TüV LGA, ANSI/BIFMA (by SGS) and ISO9001.
Specifications
Model: GT099
Color: Black and Red
Chair Type: Office/Gaming Chair
Foam Type: High Density Sponge
Frame Construction: Metal
Upholstery Material: PU Leather
Logo Stiching: Embroidery by hand
Adjustable Armrests: 2D Armrests
Mechanism Type: Multi-tilt
Tilt Lock: Yes
Lumbar Cushion: Yes
Headrest: Yes
Base: Heavy Duty Metal
Cater Material: Nylon
Dimension: 27.56"(L) x 20.87"(W) x 48.82"-51.97"(H)
Weight (Approximate): 57lbs/26kg
Maximum load: 300 lbs/pounds
Remmended Height: 5'5" - 5'9"
Warranty: 1-year.
Package Content
Accessories:
1x Back; 1x Seat; 1x Mechanism; 1x Gas Lift Cover; 1x Angel Adjustor; 5x Cater; 2x Wrench; 1x Armrests; 1x Base; 1x Gas Lift; 1x Connector; 2x Dust Cover (Left/Right)
Screws: 4x 5*8; 12x 8*20; 7x 8*25; 1x 8*35
1x GTRACING Signature Memory Foam Headrest 1x GTRACING Signature Memory Foam Lumbar Pillow
Tip: Find Assembly instructions included in this Assembly Video or Assembly PDF Guide. An average person takes about 20 minutes to assemble the chair! Any issue, please drop us email at info@gtracing.com
What is Guaranteed
Warranty Policy
We offer 1 year warranty for all functionality portions of the chair. If your chair is still under warranty, we'll be able to assist you with free replacement parts if needed.
Note: Aesthetic defects and damage from misuse of the chair are not covered.
In this one year, your satisfacition is guaranteed. We are dedicated to create highest quality chair and offer you excellent service from our support team, shipping, warranties and refund policies all to be fine tuned to what you want most: fast, painless and reliable.
Refund Policy
Subject to our Return Policy, defective products which do not confirm to GTRACING's standards, will be refunded. Up to 30 days from the date of delivery, subject to return fees.
Warranty Extension
Purchase on online store and subscribe us enjoy 2-year warranty.
Price
The price is highly affordable, making it an excellent option for anybody who needs a durable and easy to clean gaming chair under a budget. It's definitely worth checking out! Let's be thankful for our chairs while we've had to stay home! And with the pandemic and state-wide lockdown in full effect, I foresee a lot more sitting in the future.
?

Stuck at Home? Let's choose GT099 Red Gaming Chair

GTRACING GT099 Red Gaming Chair fetures racing style and ergonomic high-back, giving you visually-appealing design, maximum comfort and endurance for long sessions of gaming and working.
Engage with GTRACING in our community